Do want to be more inspired with your business in 2018?
Are you tired of not getting the results you're after?
Do you feel like you're treading water in your business rather than creating a real difference out there?
You want your business to be successful and make money, while remaining true to your principles.
You've also got pretty high expectations of what it takes to run a business. So you've got a lot on your plate, and a never-ending 'to do' list. But you've realised that working hard in your business will only get you so far.
You need a plan to help you focus on what you want for your business. Something that takes the pain out of decision making and allows you to seize more opportunities, while keeping you on 'purpose' and on track to creating the impact and results you're after.

The new year is fast approaching. It's the perfect opportunity to start afresh with a clean slate, to set your vision and goals, and create a plan for your business in a more creative way that reconnects you with what matters most to you.
So if you want to:
Be more productive

and even feel inspired by your weekly to do list

Stick with your goals

for the whole year (and not just for a month or two)

Make a one-page visual plan that outlines a clear direction

for your business with enough flexibility to respond to whatever arises

Get more leverage

out of your products and services

Run your business on your own terms

rather than be pulled around by outside forces

Build on your strengths

and what you already know about your business and market rather than reinventing the wheel and starting from scratch
then join other purpose-driven business owners at the upcoming planning workshops in 2018.
 Sign up to be the first to know about 2018 workshops.
Find out more about this unique planning approach, what you get, about Natalia, FAQs and Testimonials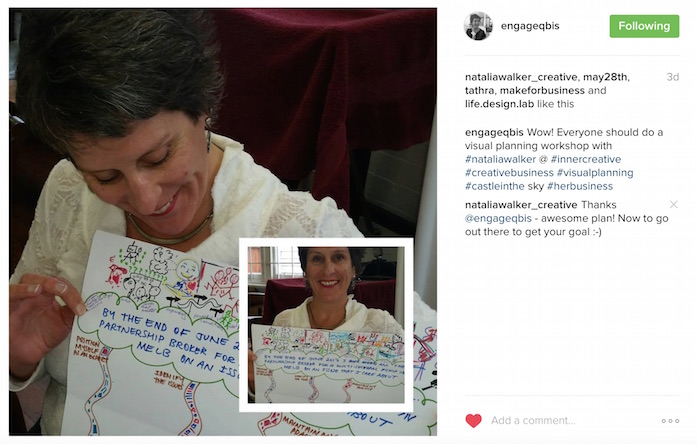 "I highly recommend working with Natalia. Her techniques are great at helping you to tap into deeper levels rather than working at a seemingly 'surface' level. What I love is that you end up with a great result, that helps with your business and personal life, doing fun and creative things. It looks like simple play, but you end up with quite intense and impactful results."

Tara Watson, Active Connected Communities
This is not your everyday type of business workshop.
We will not be standing anywhere near a whiteboard listing down generic plans for action. A linear approach to thinking will only take you so far. And you want so much more. You can't get a different result or perspective if you keep doing things the same way.
In this workshop, we'll be creating a visual plan that uses colour and pictures to tap into your brain's natural capacity for expansive 'big picture' thinking.
This format is especially good if you're a visual thinker or like to get 'hands on' when problem solving. You don't need to be an artist. As long as you can draw a stick figure and are willing to having a go, then you are more than qualified to come along.
This workshop will bring you out of your day-to-day reality to see the bigger picture about your business and what's possible. It's also more fun and engaging than filling out a question and answer template. In fact, by using this creative approach your answers will be richer and more tailored to your individual circumstances.
But this workshop is not about making pretty pictures to hang on your wall. And this workshop is not about creating your overall business plan. The Castle in the Sky Visual Plan is your business' 2018 action plan with concrete actions and strategies that are informed by your greater business vision and a headline goal to keep you focused.
Also, this workshop is not focused on how to reach 6 or 7 figures. While businesses are in the business of making money, having a money goal might lose its inspirational and motivational impact over time. The Castle in the Sky Visual Plan Workshop is about finding a big goal that's good for your business' bottom line and spurs you on even when things get hard.
Sign up to be the first to know about 2018 workshops.

You can run your business with a focus and drive towards success in a way that also reflects your personal style, passion and values.
That's why I developed the Castle in the Sky Visual Plan.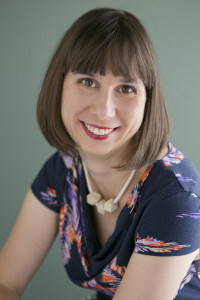 Hi! My name is Natalia Walker. I'm passionate about unlocking your creativity, so you can create a business that's more aligned with your values and aspirations. As a part-time business owner, I was tired of having over a hundred things on my 'to do' list and feeling that they were all important. I wanted to make sure that I was working on the right things that would bring me success and not waste my time on the nice, but not essential, tasks. I also wanted to quickly refer to my business goals to keep myself on track without having to shuffle through my business plan saved somewhere on my computer.
So I drew on my 17 years of strategic planning expertise, combined with my art and creative thinking know-how, to create this one A3 page visual plan for my business. It let me express my big picture vision, set one big headline goal to focus on in the year, as well as group all of my actions under some key strategies. It was something that I could easily display on my office wall. This Visual Plan was a lot nicer and more inspiring to look at than a typed up business document. It was also easy to bring along to networking meetings where I could share my plan with others, which was how I managed to realise last year's headline goal 6 months ahead of schedule. I am constantly awed by the power of being clear about your goals, and how much easier they are to achieve if you share them with others and are receptive to seeing opportunities.

So here are the specifics…
At the end of the workshop you will have:
A one page A3 Castle in the Sky Visual Plan for your business that outlines your vision and headline goal for 2018, your key strategies and actions, and your foundation of strengths and past achievements
At least one action scheduled in your calendar
Broken your goals and actions into a 12 week planner
Enjoyed some delicious food
A greater network of other like-minded business owners
More likelihood of being able to look back in a year's time on all that you have accomplished and be satisfied with your return on investment.
Plus there'll be the opportunity to get further accountability, inspiration and support for your Visual Plan once you get back to 'real life' and make sure you stay on track.
And a BONUS Reflections Worksheet to reflect on the past year and what changes you'd like to make in 2018.
Sign up to be the first to know about 2018 workshops.

Read what others have had to say about my workshops.
"It's very worthwhile! Natalia's enthusiasm and positive energy makes the session rewarding and enjoyable. She is able to pinpoint wants and needs, enabling the participant to achieve individual success."
Donna Jones, Little Gulliver

"It was rewarding… being empowered and engaged to develop workable solutions.
 Natalia provides an opportunity to deal with issues and ideas which have been placed in the 'too hard basket'. We wanted to build a coherent strategy and 'step up' as an organisation. So it was rewarding to watch the group in the workshop being empowered and engaged to develop workable solutions. Working with Natalia has helped the committee to take that next step in strategy development and move the process forward."

Sophie, Stonnington Toy Library

[To someone thinking of working with Natalia] "Go for it! Great way to open up your heart and mind, to reconnect with your inner child. Natalia's very encouraging; [with] lots of different ways of viewing things."

"Well planned. well explained, with an emphasis on individuality in a safe environment"
FAQ's:
Do I need to run a creative business or be artistic to participate?
This workshop is for everyone. Firstly, I believe that everyone is creative – we just express it in different ways and to different degrees. Secondly, we can all access different modes of thinking. We just might have a preference, like left or right-handedness. In this workshop, we'll be accessing both the detailed and logical linear ways of thinking, as well as thinking that's more intuitive and big picture. The Castle in the Sky Visual Plan Workshop is suitable for those who run a creative business or are visual, action-oriented learners. But it's also great for those wanting to gently stretch themselves out of their regular focus on details and facts.
Can I bring my whole team to this event?
In this workshop, everyone that comes to this Workshop will sort out their own personal vision and direction for their business for 2018. If you have a big team, then it's important to create a collective vision for the company to get everyone inspired, motivated and engaged in the business' future. I suggest getting in touch to organise a tailored visioning and goal setting session for your whole team.
I'm just starting out my business and still working out what I'm doing. Is this workshop right for me?
This Workshop is perfect for anyone at any stage of business. You can benefit from a plan whether you're starting out or have 20 years of experience, earn a little or a lot. Otherwise we're more subject to external forces and the whims of others; can easily waste our efforts working in a random piecemeal approach; and end up working hard without much gain. It's never too late or too early to take control of your business – it's your business after all.
I'm really busy right now, can't it wait until next year?
I agree that coming along to this Workshop is a huge investment of your time in your business. But it's worth it. When you're a small business owner it's so easy to focus all your time working in your business, that you forget to spend time working on your business – sometimes even losing sight of why you're really here. You can easily get distracted by the latest shiny new trend, or pulled around by lots of unrelated projects. It's also harder to make clear and focused decisions. I don't expect to be running a lot of Castle in the Sky Visual Plan workshops in 2018. Just remember that once you have a plan you can work smarter, not harder. The sooner you start planning, the easier it'll be running your business.
Don't wait for inspiration to hit before taking action.
If you want to get more out of your business this coming year, book your place in the Castle in the Sky Visual Plan Workshop. Invest in a plan for your business that helps you see what's possible, while also creating the focus and momentum to achieve what you set out to do.
Sign up to find out about future Inner Creative planning workshops, as well as other useful creativity tips for your business.

SaveSave