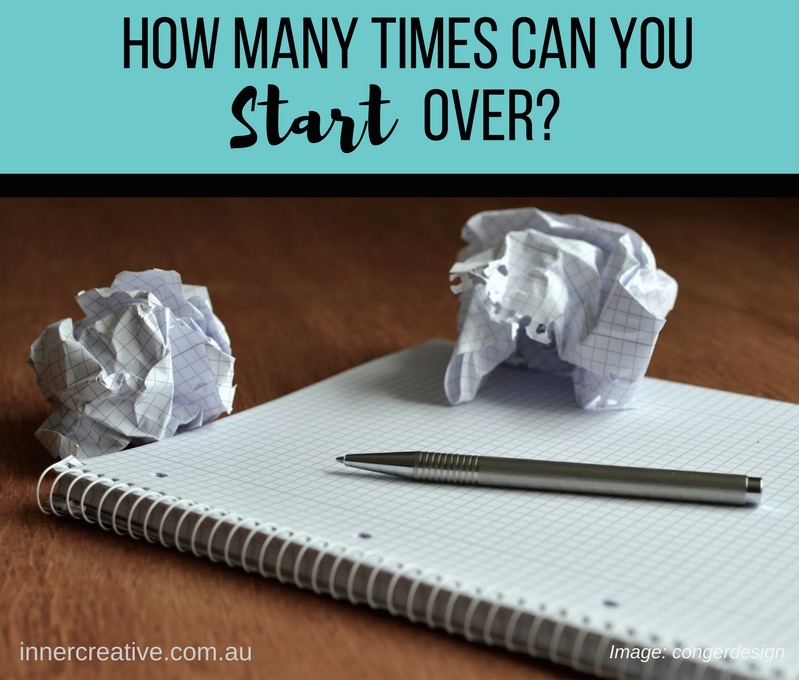 Sometimes starting can be easy.
I love starting out on a new project. It can be exiting and fun. In fact, so fun, that it's easy to get caught up in doing all the dreaming, planning and researching that the 'doing' part falls to the wayside until another new idea catches our attention. Shiny New Object Syndrome, anyone? 🙂 But as I've recently discovered, it's the willingness to start again that is so important when the going gets tough.
Over the last few months, I've bunkered down to focus on creating and trialling a 12 week planner (that helps you set a focused goal, as well as step you through your 'to do' list to make it happen) and more recently, getting my 2018 Mandala Inspiration calendar to the printers. You might have seen some of my early work in my
Mandala Inspiration series
or some behind-the-scenes over on
my Facebook or Instagram
accounts more recently.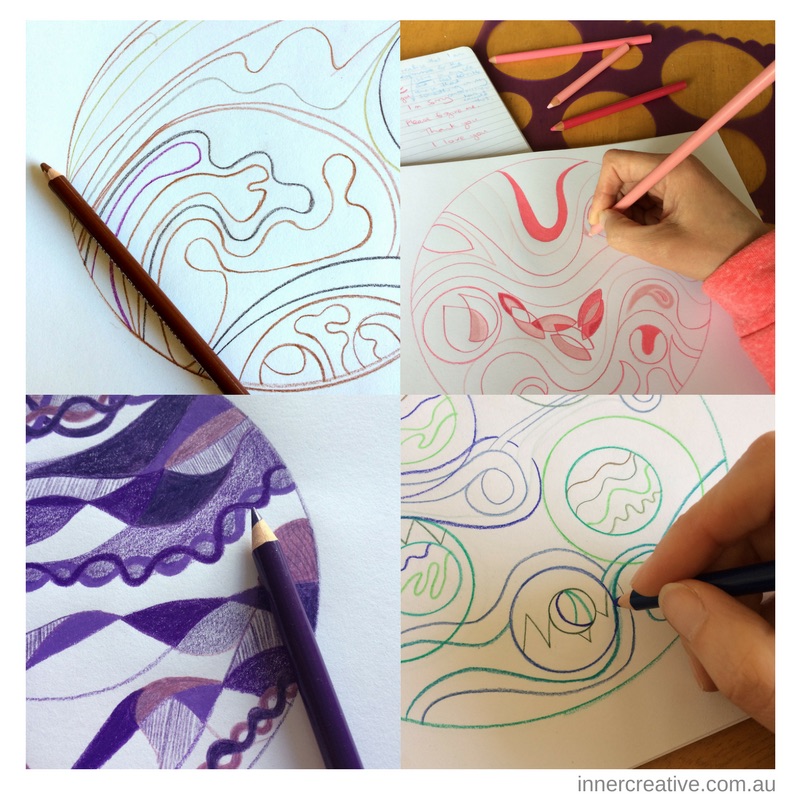 Drawing my mandala images over this last month was particularly tough. There were times when I could sit down and easily get into the flow. But there were many other times when I was feeling under the weather, not inspired, or had the "who do you think you are?" thought patterns racing through my head. And past performance had no bearing on the next mandala I went to work on. Each mandala was based on a chakra or energy point in the body. They had their own colours, vibe and story. So it didn't matter if the previous day I'd had a brilliant session or finished a mandala I was proud of. The next day I needed to draw something new. On those difficult days, I just did my best to show up at my table with my pencils and paper, and be prepared to start again. And if I mucked up or the mandala wasn't looking like I wanted it to, then I'd show up the next day and start again.
Yesterday the final calendar design went to the printers. I am so proud of how it turned out (you can have a sneak peak of the back page here).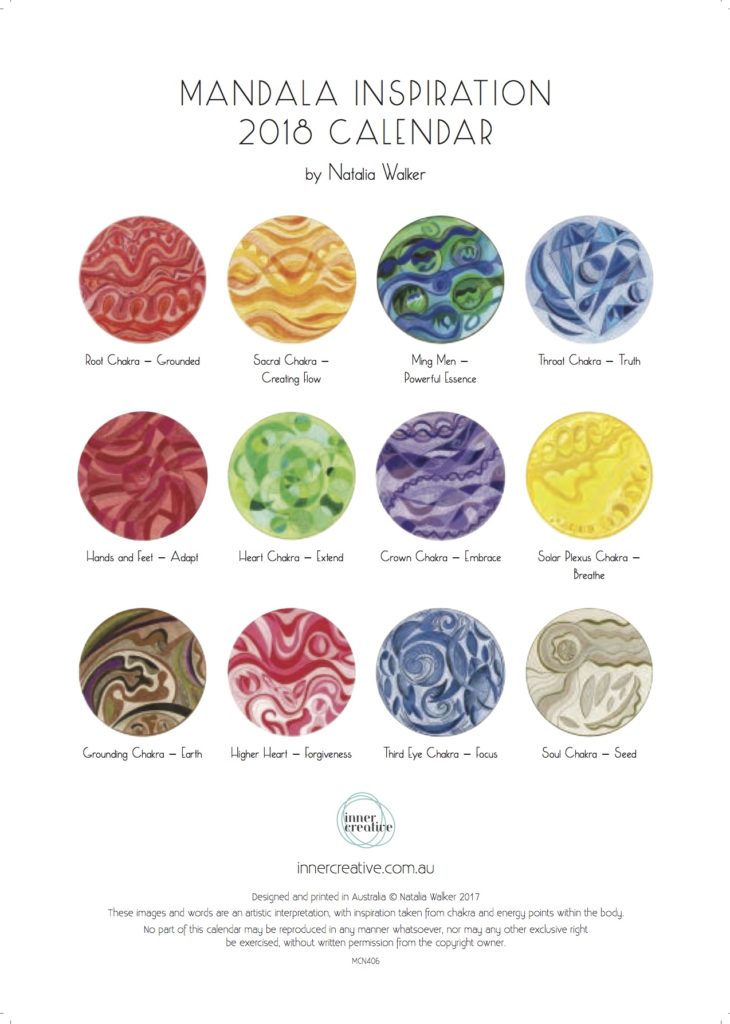 And looking back I still don't know how I got through it all. What got me through was my persistence and willingness to keep starting; to show up at the table and draw; to allow my [intuition/inner creativity/muse/spirit/Divine inspiration/whatever you want to call it] take over and let the mandala reveal itself as I kept drawing.
Now that I've finished one chapter, I am ready to start the next.
So now I'm encountering the other type of starting – the hard one.
The one where you can see the mountain (that big goal, dream, project, 'to do' list or even physical pile of stuff) sitting before you. It's huge and overwhelming. You don't know where to start.
This week the kids headed back to school, leaving me to get reacquainted with my 'to do' list. It's a bit crazy. All the things I've put off during the school holidays are now back on my plate. Plus I'm really determined to help you (and many others like you) achieve your dreams and goals by offering a suite of planning projects and tools over the next few months. So to say I was overwhelmed was an understatement :-).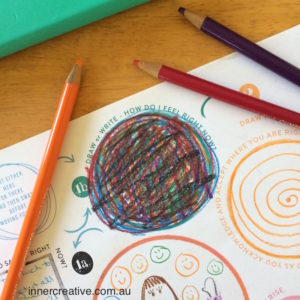 You can see a visual representation of this feeling in the top circle of my 'Get Unstuck' Worksheet.
Using this worksheet, helped me get passed my head, tap into my heart and intuition, and work out the next step to take. I also felt heaps better.
I then stumbled across this Martin Luther King quote: "Take the first step in faith. You don't have to see the whole staircase, just take the first step."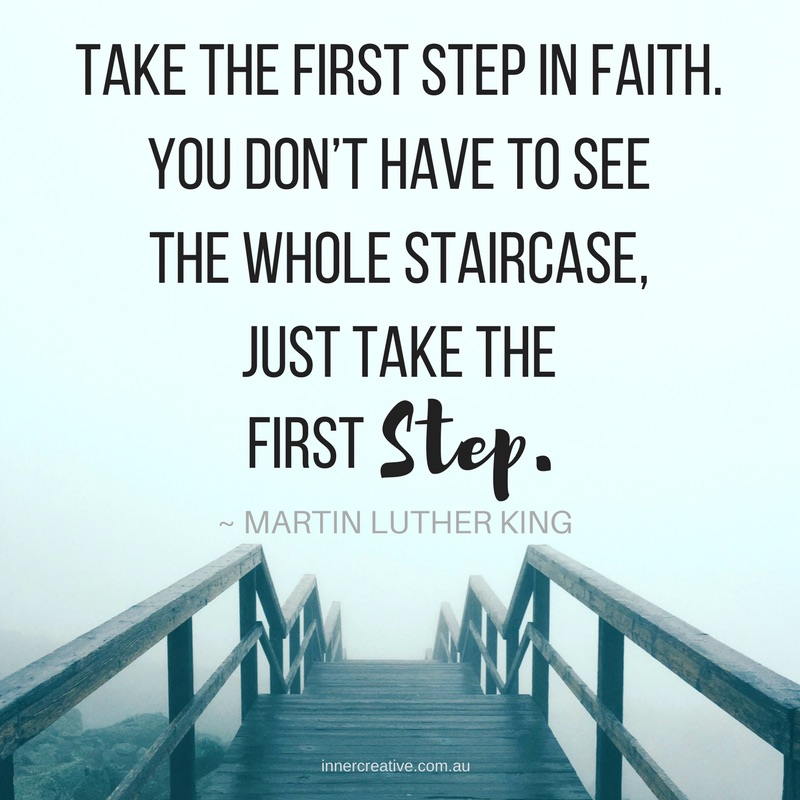 It's such a nice reminder – if your big goal, project or 'to do' list is looming a bit large, then remember that you don't need to figure it all out now. All you need to do is take the first step and then the next one will reveal itself. Sometimes it's not worth working out every single detail ahead of time, because you may discover a better approach along the way.
I'm trying to apply this advice to my own massive list of projects. I'm starting by stepping small and focusing on doing just one thing at a time. Each time I cross something off my list, I just start again by asking, 'What is the next step I need to take now?"
We often see the opportunity to start again and wipe the slate clean at the start of the year, the month, the week, and the day. But I believe we have the opportunity to start again in this moment, right now. We always have the choice to do or think something different and start again.
And even though we may be starting again and feel like we're at ground zero, we're never in the same place that we were before. (It's a bit like travelling along a spiral than a 2D circle.)  We always have experience and knowledge to draw on (even if it's not from the exact situation).
So getting back to my original question – how many times can you start over? I say, as many times as you like for as long as it takes :-).
Do you have a big goal or project on the horizon? What's the next small step you need to take to get started?
I'd love to hear what it is so I can cheer you on (comment below or tag me on
Facebook
or
Instagram
). And most importantly,
once you figure out what you need to do to get started: go ahead and do it.
Good luck!