Welcome to the latest instalment of The Creative Life interview series!
The aim of this series is to shine a spotlight on how business owners incorporate their creativity across all aspects of their life, and gives some 'behind the scenes' insight into how they started and plan for their business.
Today I'd like to introduce you to Karen Spencer of Scoobs 'n' Lishy.
Karen is a mum of three and the creative force behind Scoobs 'n' Lishy, where she specialises in making bright and practical essentials for babies and beyond.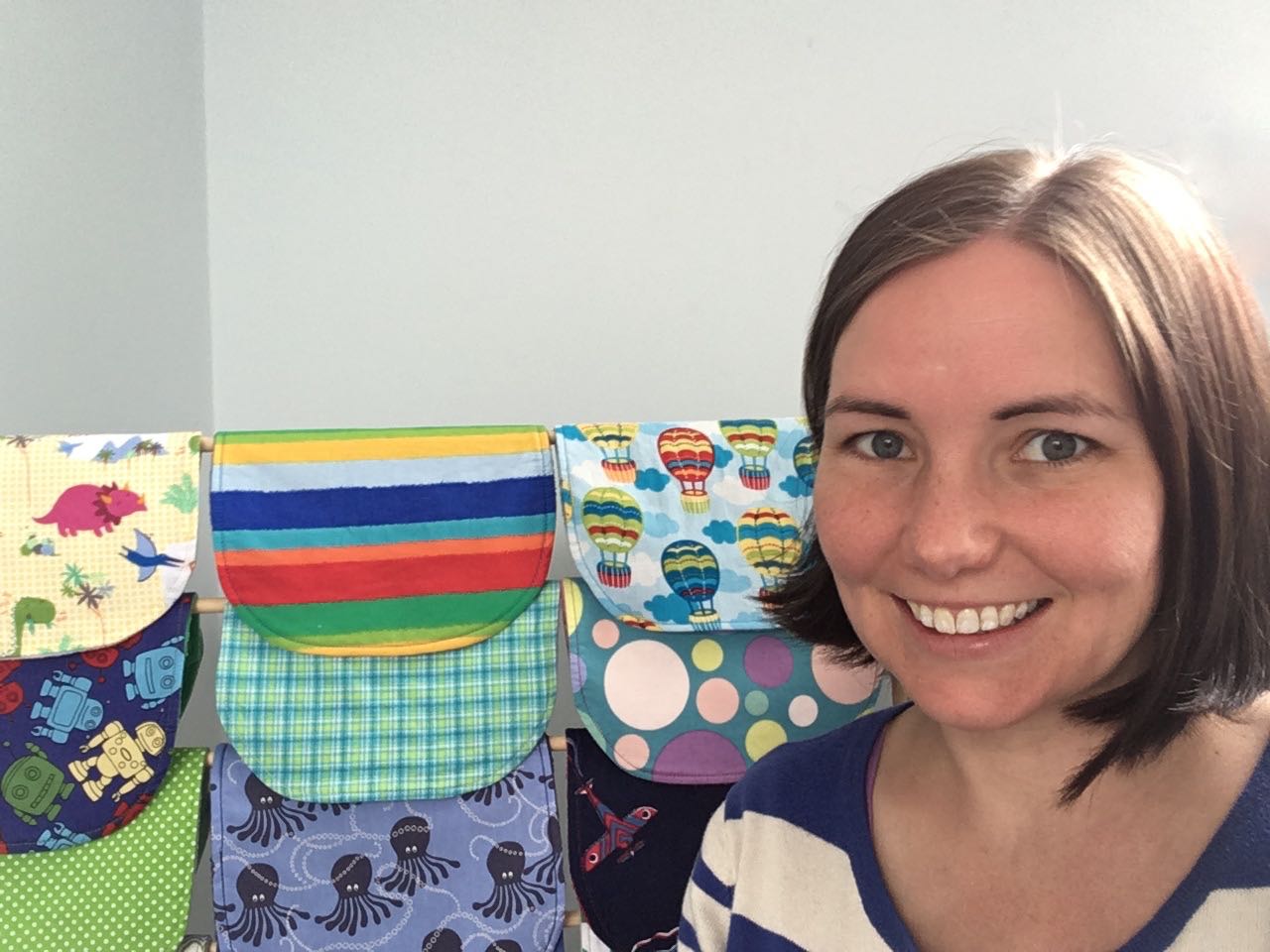 Karen spencer with her scoobs'n'lishy bibs. Image: Karen spencer
There is more than meets the eye with Karen. Her business of bright baby and children's goods is just the tip of her creativity outlets and talents. It was so exciting to discover some other hidden gems (but I don't want to give anything away so you'll have to read on :-)).
Karen is a true embodiment of her brand – practicality, brightness and happiness. I really appreciated Karen's pragmatic approach to her creativity and business, especially how she fits it in around raising her family. I loved her 'roll up your sleeves' attitude of getting out there and doing something, without making it seem like hard work. If anything gets boring, Karen sees how she can add a sense of fun and enjoyment to whatever she does. So not surprisingly, Karen's looking forward to launching a new range of colourful hair accessories that will celebrate diverse interests by including things like dinosaurs and trucks, because not all girls like pink sparkly unicorns (although some do, and that's ok too!).
In this interview you'll also find out how Karen:
avoids making work feel too much like 'work', and how being 'selfish' helps her break up monotony
balances efficiency with being spontaneous and following her interests
manages her expectations and gets into the flow
deals with risk and has the courage to leap and do what she wants to do.
So if you're intrigued to learn more, let's start…
What are all the different hats that you wear in your life?
First and foremost, I'm a Mum. That's the main one, that's always my first 'go to'. But I'm also a business owner, and a creative person. Not an artist. But a creative person.
How do you express your creativity?
Well, I find I do a lot of sewing. But that's a good balance for creativity versus practicality. That's a way to make use of creativity. Whereas there are other things like paper craft, that I get into but I find more of a creative outlet for me.
And you've been doing your 100 Days Project on social media?
Yes, the 100 Days Project, which has been a really interesting challenge. It's something I was really excited about. It was supposed to run last year but they postponed it to this year. So I've spent the whole year going "I can't wait to do this!" And now that it's finally come to it I'm a little bit nervous. Sometimes it feels like an effort. I just can't be bothered doing it. But I do always make time. I don't always upload it every single day. But I do actually do the project every day. So I'm really looking forward to seeing how that comes together at the end.
Who are you doing it through?
There's a group called the "100 Days Project". It's based in New Zealand. They've done it for a couple of years. Everyone choses to do one thing every day for a hundred days. We all have the same start date and finish date. There are people who say they're going to draw a monster every day, or take a picture of a tree every day, or make a necklace every day. Anything creative basically. And I've chosen to make a 'Happy' postcard every day.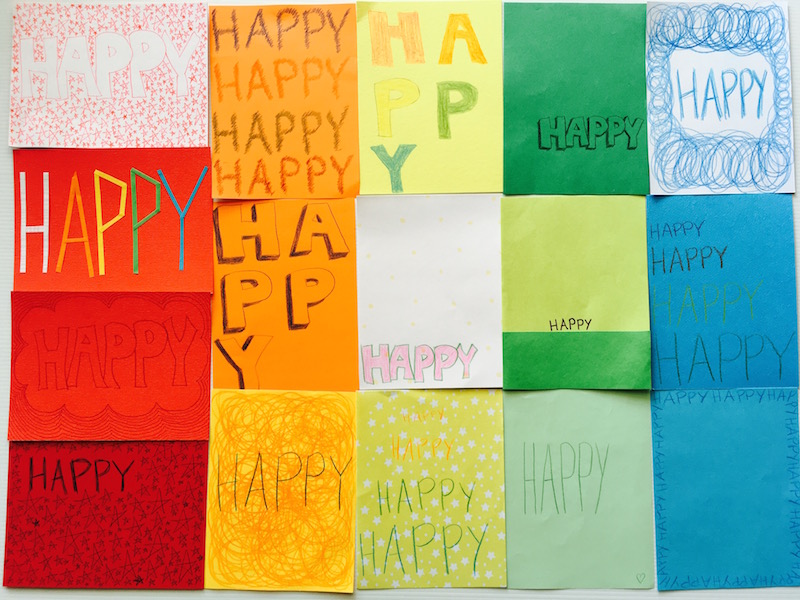 A sample of Karen's 100 Day project happy cards. IMAGE KAREN Spencer
What are you doing with them once you've created them?
I have a plan for how it will look at the end of the one hundred days. It's going to be large once you've got a hundred postcards :-). I'm hoping that I'll be able to display them as artwork in my house, in the kids' area. But I'm not actually 100% sure that they'll fit. [laughs] So we'll see.
So what are the big learnings so far through the project?
I've learnt that there's a lot more different ways to do the same thing. Initially I wanted it to be more of a drawing challenge. And I found that really difficult at the start. Some of the earlier ones have a little bit more of a paper craft feel with layers and things. That was mostly because the earlier ones were all red. And it's very hard to get variation with red. So I felt I had to do more with it. But it has gotten easier as I've gone along.
So going back to how you express your creativity, you were talking about your sewing and this project. But are there other ways?
There have been a lot over the years. There are lots of things that I'd like to get back into once I've got a little bit more time, when my kids are a little bit older I will.
I made a few short films, animated short films, which have been really really fun. The last film I made was eight or nine years ago now. So now that the technology's made it so much easier, I'd really like to do another one of those. I might have to wait and see. It's quite a big time commitment so… [pause] actually I'm an award winning film maker.
Awesome! So tell me more about that.
Well, I kind of fell into it by accident messing around with my brother one day. My local council, Kingston City Council, they're really really supportive of the arts. They're just fantastic for creative people in general. They had, as part of a Youth Week, they had a film festival where anyone could get their film put up on the big screen. And I went, "Great! I could make a movie and have it shown on a big screen." I had actually made a comic book as a gift for one of my brothers. It was about him as a pirate. So I made that into a movie. I entered it into the competition and I found that it was all really exciting. It was really cool. It was a yearly competition. So the next year it came up again, I thought, "Well, I'll make another film." I won the Mayor's Choice Award, which was basically the second prize. Then the next year I made another short film and won Best Short Film. The prize for that was a short film making course with the Victorian Collage of the Arts. So I did a weekend animation course with them. It was amazing! I walked out of there thinking, "This is what I would love to do." But the course was quite expensive and you already had to have a degree, as this was a post-graduate course. They took very very limited number of students, and it was full-time. At the time, I was about to get married and was planning on having a baby (which I did later that year). It just wasn't the right timing. There were so many reasons why I couldn't do it. I'd love to do it one day, but we'll see. My final film was also shortlisted in a national competition and was shown on TV, so that was exciting too.
Compared to what you put out now in your business, that's completely different. I'm so glad that we've been able to unearth that! That's so exciting!
It all started when I was very young. My Grandmother was quite creative. All my childhood memories basically, are of being at her house, and she would be doing everything. She would be embroidering cushions, and she'd be putting cloves in oranges, doing eggshell paintings, painting on glass jars. But she was a big sewer, so she taught me how to sew from as early as seven or eight. She gave me my first sewing machine, as a gift for my 21st birthday. She was so excited. She gave it to me 6 months early, because she couldn't wait. She thought that I'd really enjoy it, which I did. And that's still the machine that I use now.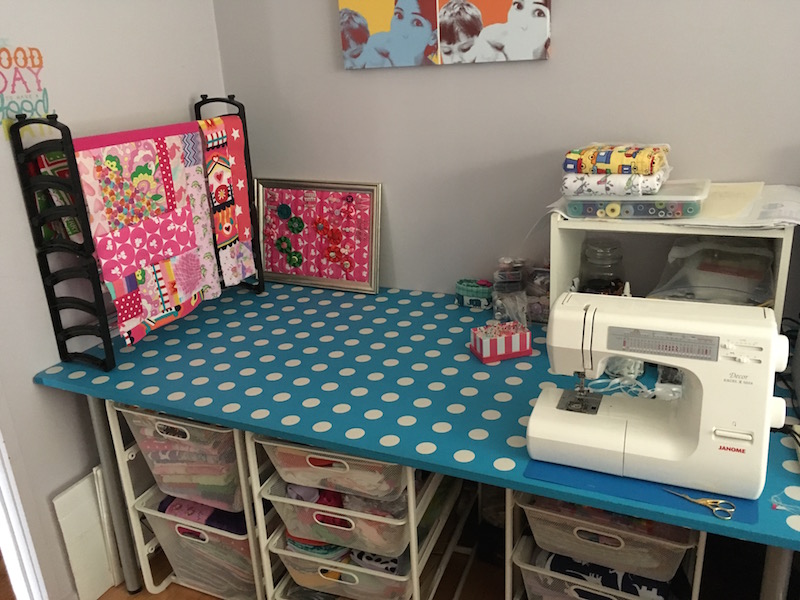 Karen's  sewing machine and work station. image: Karen Spencer
That makes it even more special.
She recently passed away. That's been a big loss for me. She was, up until even into her nineties, she would still be creating all the time. And that's me. That's why I admire her.
Sounds like you've got so many lovely memories, and what great inspiration.
Yeah. Definitely.
So we've taken a nice detour, but getting back to the common interview questions, name three words that you'd use to describe your creative work.
Bright, practical and fun.
What three emotions do you want your customers to feel about your work?
I'd like them to feel happy. I like to make things that will brighten someone's day. I always come back to practicality. Everything that I make is a practical item that people would use. If it would be something that I would use, that's always the foundation of all my products.
So how did you get started with your business?
When my middle child was about 18 months old, probably before that, I'd been thinking about what I might like to do. I was on maternity leave at a job I didn't want to go back to. I started thinking about different things that I could do, different ways that I could work for myself. I'd been doing scrapbooking for years and years and years. (Although I haven't done it since I was pregnant with him, I'll get back to it one day). For years, that was a big thing and I was trying to work out a way that I could make that work as a business – whether I could make bespoke albums. But I could never find a way. It was so much work. I couldn't find a way that it would pay enough that someone would pay for that product.
So that had been in the back of my mind thinking about that. The sewing started because I made a quilt for my sister-in-law, which meant I had some leftover fabric. I had some friends who were pregnant, so I made them bibs and gave them to those friends. After doing such a big project like the quilt, to whip up something so quickly was really enjoyable in a way that sewing had never been that enjoyable for me. I think I've got a bit of a tendency to tackle really hard projects. Like suddenly I'll feel like, "Oh I want to make myself a formal dress" Without ever really having studied the basics. So to do something easily was much more enjoyable.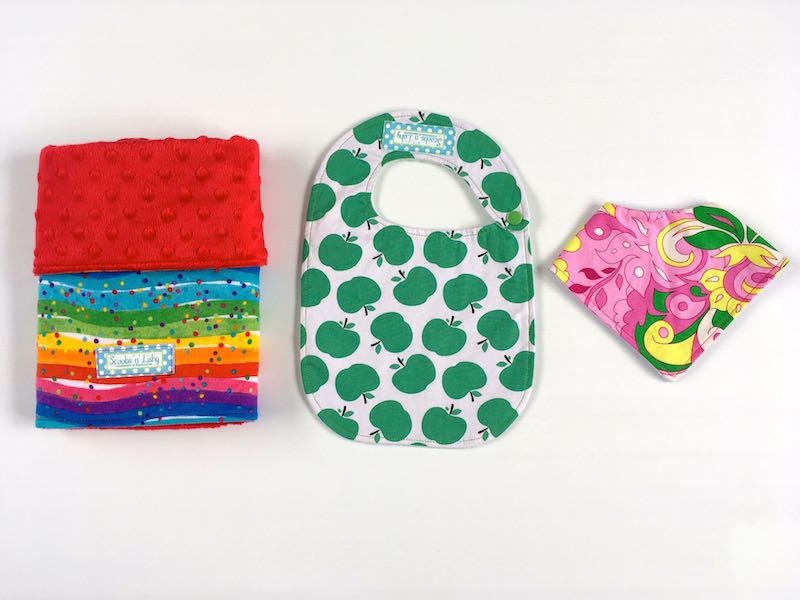 scoobs'n'lishy baby blanket, bib and bandana bib. image: karen spencer
So after I made a few, 8 or 10 for a couple of different friends, I thought, "Actually, I think I could do this. I could sell these." And started looking into it a bit more. Working out what the regulations were. I'm a bit of a stickler for rules, and there's all that kind of stuff. It just grew from there. I thought, "I'll give it a go." With business registration, you have the choice of 1 year or 3 years. I thought that in one year I'm not going to know. That's not enough time. "How about I give it 3 years? And by then I'll know if it's viable as a business or not." And that's what I did. Now it's been 4 years and it's going well.
And predominantly online?
Mostly online. I do a couple of markets a year generally. I don't want to commit to doing one too regularly. Our weekends are quite full already. But I do like them. It's nice. It's a great way to connect to customers, to have people come up to look and admire, and be able to feel the products. I'm a very tactile person with fabrics. I don't like to buy my fabrics online. I like to go into a shop and feel it. Online shopping's not great for me, but it's obviously great for my customers. It's a good mix of online and markets.
I'm curious, where does the name 'Scoobs 'n' Lishy' come from?
The name comes from the nicknames my boys had when I started the business. They've grown out of their nicknames now, but having them in my business name reminds me of why I got started. 
What do you love most about your work?
I love working for myself. I was actually talking to my husband yesterday. He said, "I'd like to have my own business." And I said, "Yeah, it's pretty great." Just the flexibility to be able to work around the kids, especially now as my youngest has just turned three. She's just reached the point where I can sew while she's in the room. She'll be off playing, or she like to plays with all of my fabric scraps. I let her loose. I give her two boxes. She moves them from one to the other, and back again. To be able to fit it into my life that way is really great. I don't have any childcare. I have my daughter with me all the time. I don't have a lot of time without her. She's always with me. So there's no other way that I'd be able to do any other kind of job. So for that it's really fantastic. I hope that I can continue it after she's at school and we have to start looking for me to get a real job.
A real job?
Well, a real job in that it pays well enough to count it as a 'real job' I guess. That's something we're not going to think about until she goes to school. My plan is for my business to be doing well enough that I can just focus on that. But I might need to look for something part-time somewhere else as well.
Obviously your creativity influences your business. How do you see the two intersecting? Your business is reliant on your creativity.
I find it difficult, in that sometimes there are things that I really want to sew. I really like making blankets. I'd love to make more blankets, but then I'll realise that I've entirely run out of bibs. And if that's something that I want to sell then I need to make sure that I have them. So I find myself pausing and going "It's not all about me, sewing what I want." It's so important to be sewing what my customers want. So in that respect, it's a balance. That's what it comes down to. If there's something that I really didn't want to make, then I'd stop making it. But if it's something that I'm going to continue to sell, then I need to make sure that I have them available.
I'm really interested in that balance between following your own creative desires and passions versus, at the end of the day, you're running a business to make something that your customers want.
Although I do find that if I've made something, or I put new products up on my social media and say, "This is what I've got," then it's more likely to sell. So the things that I'm making more of are more likely to sell. But then I've got the problem, for example, where I ran out of pink bibs recently. I've got all these other colours, but no pink ones. So I made a tonne of pink ones and people said, "They look great. We'll buy them." So now I've still got no pink bibs [laughs]. If I'm making things I really like, then people buy them. So that's great so I try to make more of the things that I like the most.
So do you think your love infuses into what you do?
Yeah. I think it does. It's like the fabrics that I choose. I'm often quite influenced by my children, by the things that they're into. I'm much more likely to look at fabric that has their interests, and their interests are probably things that I've encouraged by the things I've given them.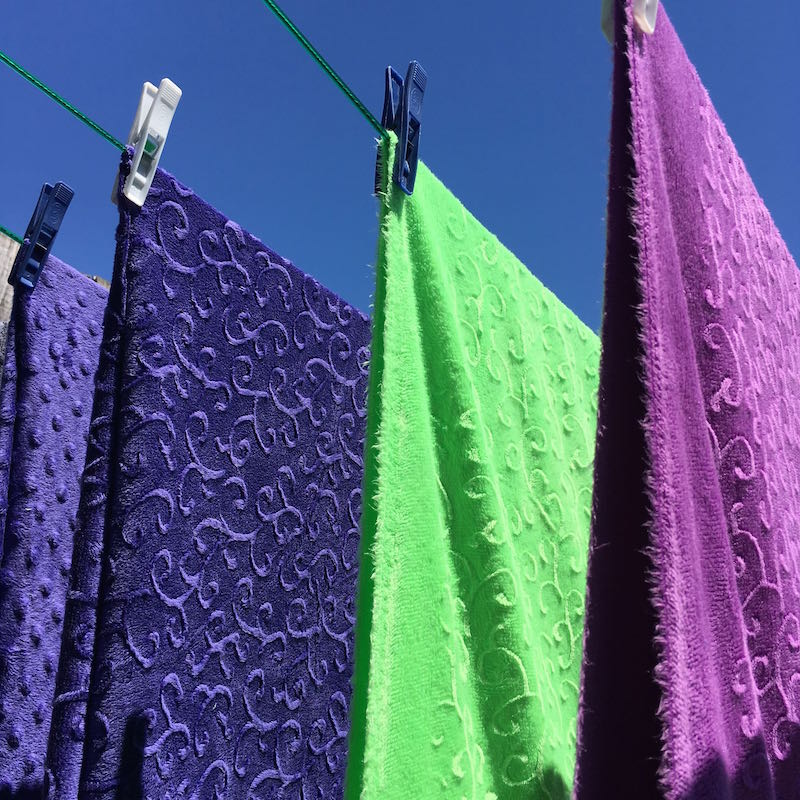 "Glorious sunshine in Melbourne today- perfect for prewashing fabric!
Lots of minky blankets in my future"   scoobs'n'lishy instagram post
But if I do find that I'm struggling, having to make the same thing over and over again I break it up with a bit of 'selfish sewing'. Which is often just things for my kids (which is not really that selfish). It's never for me :-). But that's good. I make a lot of birthday presents for my son's friends, whenever we go to birthdays, because I like handmade things. Or ethically made things are a big priority for me. I always find that an interesting challenge too. Making something different that would match that particular child. So that's a good way to build in a difference that feels more creative.
So tell me about your 'ethically made' philosophy?
It's not really a philosophy of my business, more of me. I'm trying to get my business, I would like my business to be more matched by that. At the moment it's a bit difficult. I find, generally, ethical and sustainable products are priorities for my purchases, when it comes to anything from food to clothing. I try to shop sustainably first, then if that fails, my secondary priority is ethically made. For instance, I'm not going to buy second-hand socks. So I try to buy ones that are ethically made or made in Australia is another priority for me. Part of that when it comes to giving presents to children, well most of them are plastic made in China. I try to avoid that. It's really difficult to find toys that meet my ethical standards. While they're still young enough that they're happy to play with anything I find that I make gifts or I buy from other hand-maidens who make as well. I think that's a good thing. It's not entirely ethically made, but it's on its way.
I've seen you post a dinosaur tail?
Yes, that was for a cousin.
Have you had interest from posting that?
Some of them I do – from some things that I post. But I need to look into things like my insurance. And the labelling regulations for toys are really really difficult. So I've made the decision not to sell toys just because that's a bit of a minefield. It's all very unclear about what the regulations are. So I think that it's easier just to avoid that. But they are fun to make.
I know that you don't have a lot of time without children being with you, so how do you make time and space for your creativity?
It's been really good since my daughter's been older. I've been able to work around her, with her nearby. Because she used to nap. When she'd nap, that's when I'd go straight into the sewing room and do whatever I could. But she's giving that up now, and I was very worried that would limit my ability to get any work done or any sewing. But I've found, as you do, I've made it a priority to work around her and find ways to work around her and distract her. Some days she'll only play for five minutes and that'll be the end of it. But there's other days that she'll play for half an hour, and I'll get a decent amount of work done. I'm also a night owl, so I'll stay up late after the kids are in bed. I try not to be too creative too late at night because I don't sleep when I go to bed. I stay up thinking, "Oh I could be doing this and this and this." I get really excited. Actually at 1 o'clock this morning, I was lying in bed googling pram caddies because I was thinking "I must find out how I can make one right now!" So I try not to be too creative too late at night. I find that I just get too excited.
How do you find time for your Happy Card project?
I do them at night usually. Nearly always after the kids are in bed. I sit down and watch TV, do a bit of doodling then.
What inspires your creativity?
I think that's hard because everything inspires creativity. It's something that I need. It's something that I've recognised that I can't go without. I need to make sure that I do that. There have been a lot of creative influences in my life – like my Grandmother who I spoke about.
And with the 100 Day Project it's interesting. My middle child, my son, who's five, he loves them. I make them once he's gone to bed at night, so he wakes up in the morning and he looks at the new one sitting at the front of the stack. He gets really excited and that encourages me to do it more.
But I also love art galleries and museums. I love going to places like that and looking around at other people's creativity. Talking to creative people as well. I find that that's it's one of those things that feeds me as well.
And if I'm ever struggling, I'm in a sewing group on Facebook that's all inspiration. I generally have it turned off because it's way too active. I don't have time. But if I'm ever feeling that I'm lacking a little creativity, then I have a look through there and see all the beautiful things that other people are making. "I'd like to make that. Or I should do that." That really works to push me forward to create more.
With the 100 Day Project, have you found a sense of community around that?
It's hasn't for me really. I guess because it's all started in New Zealand, a lot of the meet-ups are in New Zealand. I don't know that anyone's organised a Melbourne one yet. I had a lot of trouble with the website early on, it took me a long time to upload any of my photos as I couldn't get onto it. I just posted them all to Instagram instead. So I wasn't able to get on to the website to check what everyone else had been doing either. I worked it out eventually, but most of my photos are still sideways as I can't get them to rotate. But at least they're there.
You were talking about how you grab little moments to work here and there, so is there anything you do to prepare or get into the zone? Although you mightn't have the luxury of getting into the zone, what do you do to get into that mind space?
I just try to get it done. I usually like to start with something that I know will be really quick and easy. I'll say, "So I'm going to do this one row of stitching. I'm not going to aim to finish anything. I'm just going to get in there and do this one little bit. I'll chip away at it, so that the next time I have time, I'll be able to finish it." And often that ends up with me finishing that thing, then finishing another thing, and the next thing after that. I guess I find it's about managing my expectations. If I go in thinking, "Yes! I'll get 10 things made today." Then I'm going to end up being disappointed. But if I go in there going, "You know what? Anything. Any work that I can do is good." I get more done.
I call that overcoming the resistance of starting and tricking myself into starting. I can end up doing hours of work.
Yes, I think that's it. You've just got to start. I like to start with something easy. It's hard to start if you're going into a bit that's not your favourite bit.
So you're not the "Eat the Frog" type of person?
No. Not with sewing. With other jobs I'm surprised that I can struggle to finish something, because I feel like I've done half, but I've done the easy half. I am better off just starting.
How do you overcome a creative rut or what do you do when you're feeling stuck? You talked about that Facebook Group.
I just like to get things done, starting with easy things. Often if I do find myself in a creative rut, it doesn't happen very often, it's because I've had it in my mind that I've got to do something that I don't particularly want to do. Or I've got something new that's going to be quite challenging, like working on a new product. Making a new product is often the hardest bit, the most work, with product development. So I find that if I go back to things that I like to do, that are mindless and easy, then that's enough to push me forward and work to get me out of it.
What's been your biggest learning over the four years of your business?
Everything takes so much longer. The sewing is the smallest part of what I do, which I find hard. Managing listings on Etsy and things like that; all the marketing, the social media, all of that. Often you'll see there'll be nothing for a week or more on any of my social media. It'll turn out that I've just been working a lot during that time. I've been doing all this sewing. But I don't quite have the time to do both. I think that's time management. When you don't have much time, it's really hard to do that. I think also that pricing's always difficult, and the regulations as well.
I'm planning on releasing a line of hair accessories. I've got tonnes of them, heaps of them made up at home, all fine, but I have to work on the wording on the packaging. There's things like choking hazards. It's things like that that I have to take the time to work out. I find hat really difficult. I get really excited about something new, only to find that for various reasons that I can't do it.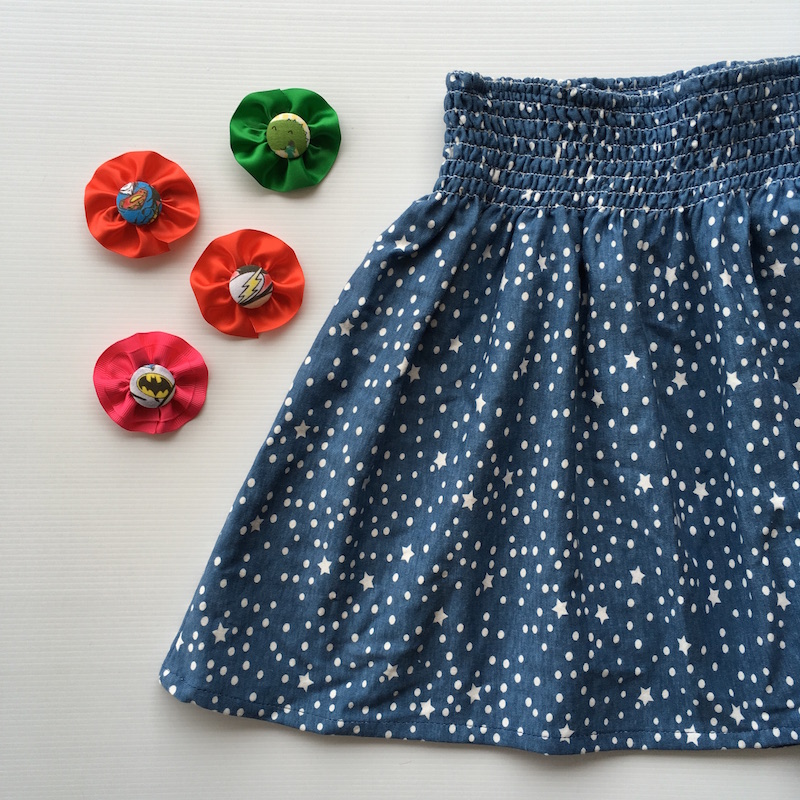 some 'selfish sewing' for Karen's daughter with the new range of hair accessories.
image: karen spencer
Like your dinosaur tails?
Yeah it's things like that. Things that I love to do but aren't worth all the extra work.
So have you ever taken a big leap of faith?
I think starting the business in the first place is the big leap of faith. It's about having the guts to say, "Yes. This is the thing that I want to do," and jumping into it. I found it hard initially. And still, when people ask, say at my husband's work functions, when someone will say, "What do you do?" And in a very corporate world, it's very hard to say, "Oh well, I sew."
But you run a successful business?
Yes, I say that I run my own business. And I'm getting better at it. At the start I was like, "I'm a Mum" because that's what I spend the vast majority of my time doing, you know, parenting. And I guess that's what people are asking when they ask what I do. But I'm getting better at promoting my business in that sense, and giving it value.
But what helped you make that leap into starting your own business?
I think it came down to looking at "What's the worst that could happen?" I think that's what you go down to. And looking at the initial start-up costs. I already had a sewing machine. I already had a couple of different types of fabrics that could get me started. It was just business registration and insurances as the initial costs. And I thought, "Well, if that doesn't work, that's still in the hundreds of dollars." It's not a ridiculous amount of money to lose if it hadn't worked out. So I think that's what it came down to. Sometimes you've just got to give it a go.
On the business side of things, are you a planner or do you go with the flow?
I probably go with the flow. Probably too much [laughs]. I should plan it out a bit more. I get in my head, "OK I've got to do this next and then I'm going to do that." But then I get caught up in it. Like I decide that I'm going to make all green bibs for a while, so that I don't have to change threads. It's more efficient to make the same coloured things all at the same time. But I don't like to do it. I get bored with it. I end up halfway through the pile and then go, "I don't want to do that anymore." So I go off to something else. I guess sometimes you've got to go with what you want to be doing. Otherwise I don't want it to feel too much like work.
So there's a tension between your efficient hat and your fun, spontaneous hat?
Yes. It is a battle. [laughs]
And so the flow tends to win out there?
Yeah, I think so. Until I get down to a point where I say, "I'm not allowed to work on that until I've done this" and that's the way to motivate me to get through the more planned out stage. But it's more of a "going with the flow" process.
I think that this comes out in your work. People can feel that vibrancy, spontaneity and aliveness.
I think so. With social media and marketing, in business groups they say, "If that's something you're really struggling with, consider whether it's worth paying someone else to do that. If that's somewhere that you're using a lot of your time, that could be better spent." But I can't do that. I think that it's so personal that I need to be able to do that myself. Often my posts are talking about reasons why my children love what I'm doing or things that I love. I don't think that that would ring true if someone else was doing that. It is a very personal thing.
What's your big creative dream?
Gosh, I don't know that I've ever had a big creative dream. Maybe lots of little creative dreams. I'd love to be able to continue on with this business. There are lots of other things that I wish I could make in my business, and maybe one day I will. The earliest job that I ever wanted to do when I grew up was to be a fashion designer when I was about seven or eight. And I'm about the least fashion conscious person there is, so it seems like a funny dream now. But I might one day go back to making clothes. I might get there.
You haven't thought about branching into children's clothes?
I have thought about it. I think that it's very difficult to manage without it being custom orders. I like to have a lot of things ready-made. When you're doing clothing that's difficult because people will love something but they'll want it in a different size. And I struggle with custom-made things. I've made a few custom-made items, and I love them. It's great. It's wonderful to work with customers in that way but, from a time perspective, I find I get quite anxious. I feel like even if it's only an order that's been placed earlier that day I feel like a I have to be working on it. So I don't think that would work well for me as a whole business. And I think to have a whole ready-made stock is quite difficult. But maybe one day I might have some one-off showcases. I'll just make a whole bunch of things that I like and then sell them in an online market. As a once-off, I'd like to do that.
You also spoke earlier about your film dream?
Yeah, I'd love to do that. But I can't see it being a career. It'd be a wonderful hobby. I would love to make more films. That's definitely something that one day I will – one day I'll make films, one day I'll get back into my scrapbooking. I'm getting closer. Well, I'm getting a lot closer in terms of having the space to do it. Space has been a big deterrent for those things for a long time. So I'm closer to having that space and then we'll see.
Do you have a favourite quote or saying?
I've been researching so many different quotes. As I happen to come across them, I've got a million screenshots of things because of an art work I'm preparing for our kids' area upstairs. I want to do a wall of quotes. My plan is that eventually we'll have a housewarming party for our new renovation. I'll get everyone to bring their own inspirational kids quote and everyone can write it on the wall. So it'll be all different styles of quotes. There are quite a few that I want to add to that. So I've been searching through all the ones that have been on my phone. There was one that I really liked and I thought was really appropriate to business, but it's not something that I myself reflect back upon.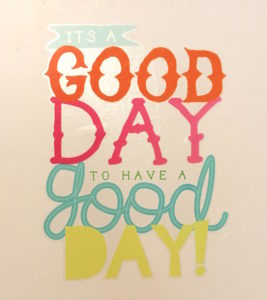 In my craft room I have a sign that says, "It's a good day to have a good day!" That's something that I often go back to.
The other one I really like is, "Be a cupcake in a room full of muffins." Because I love sugar and cupcakes [laughs], but it's also so true in life and in business. You have to find your own spot and be different, and do what you want. I think that works very well for me as a business mantra as well.
Quote on Karen's craft room wall. image: karen spencer
Is there anything that your Grandma used to tell you that often springs to mind when you think of her?
There is…. (pauses)
Nothing rude of course :-).
No, she was a lovely old lady. She never said anything rude in her whole life. But one thing that I don't use in my business at all. We'd talk about sewing and making mistakes. She said, "If you can't see it from atop a galloping horse it doesn't matter." And I think that when I was learning to sew and my stitching wasn't straight, that's what she said. I don't use that in my business at all. I'm like, "No, it does matter. I can see it. I know!" [laughs] But it does make me laugh.
The other big sewing influences in my life is one of my high school sewing teachers. She would not even look at something if you hadn't trimmed the thread off. She would just refuse. "No. You would have to trim that thread." Everything had to be perfect. She's more, from a business kind of inspiration sense, I often think back to what Mrs Holahan said.
So that's where your quality control comes from?
Yeah I think so. Grandma wouldn't be so good with quality control, but Mrs Holahan's all over it :-).
What would you most like to be remembered for?
That's tough. It makes me wonder by who? I don't know. I guess I'd like to be remembered as a great mum, which goes to show that parenting really is the forefront of my life.
In terms of my business, I'd like to be remembered for good quality and long-lasting quality, and practicality. I hate the idea of someone being given something and not ever using it because they don't find it practical. I try to make sure everything I make will be of use to everyone that had it.
What are you working on right now?
I'm almost finished the 100 Days Project. And I'm still working on all the hair accessories. I'm building up my stock and planning to do a product launch at the [Kingston] Maker's Market. So that's something to look out for.
I have a few new products that I'm working on. One is high chair caddies. They're bags that go on the side to hold your bibs in place. I've been working on them for years but they're getting a little closer now. I've made a few and sold a couple to friends who know that I've had that. But I'm closer to going out to everyone else as well.
They can road-test it for you in a nice way.
Yes. That's the plan.
Is there anything else you'd like to share or give advice to someone about living a creative life?
I think if you want to live a creative life you do live a creative life. I don't think it can be avoided. If that's something that you want, it's something you need. You just need to get out there and do something.
Thank you! Fantastic last words.
---
For more information about Karen Spencer, Scoobs 'n' Lishy, and her latest products and markets, head over to her on Facebook page (Scoobsnlishy) or on Instagram (@Scoobsnlishy).
And if you want to read more inspiring interviews with other amazingly creative businesswomen then check out the Related Posts below.
So how do you bring creativity into your life?
Have any of Karen's ideas inspired your creativity?
Please post your comments below.
Pin It