Given the recent global events you might be wondering 'What now?'
Yes, times are uncertain. We can never fully guarantee nor predict an outcome – no matter how certain.
But I love this quote that I found by Maria Robinson.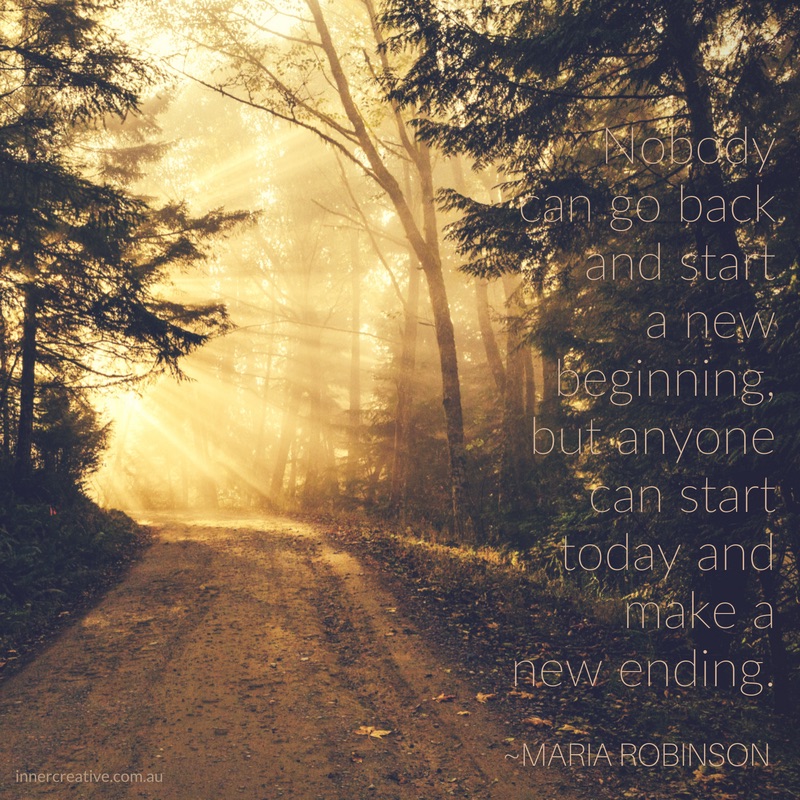 Sometimes we're not happy with where we find ourselves in our life or business.
But the past is the past, and cannot be changed (no matter how much we'd like to).
The only thing that we can affect is this present moment.
So you have the choice in this moment of making a change, of doing things differently.
Are you willing to take this step for yourself?
Because it's all about what you do from now on.
Are you going to let yourself get overwhelmed or over-run by other's demands?
Will you settle being reactive and constantly fighting fires, rather than being proactive and making time for what you want?
Make a new ending.
All you need to do is to set an intention, a goal, a vision.
Decide where you want to be in one, two, or five years' time, and 
then drive your stake in the ground and make your claim.
Having a goal or plan doesn't guarantee that it will work out exactly as you intend. 
But it's so much more satisfying and rewarding to feel that you're part of the action, in the arena, rather than be a passive victim subject to external forces and others' whims. And i
f things don't go as you plan, then you can always re-adjust your course.
But first you need to know what you want and where you want to go.
Having a vision and a plan helps you focus on what you want and where you want to go. It takes the pain out of decision making and helps you seize more opportunities, while keeping you on 'purpose' and on track to creating the impact and results you're after.
Perhaps I can help?
Join me at the upcoming Castle in the Sky Visual Plan workshop in Melbourne!

 This workshop is for small business owners, like you, to create a one page A3 Castle in the Sky Visual Plan for your business.
You can see my Castle Plans for the last two years in the photo above. This Visual Plan has all the traditional components of an action plan: a vision, a big headline goal for the year, as well as key strategies and related actions to get there. But it's all contained on the one page and in a more interesting and engaging way.
This format uses colour and pictures to tap into your brain's natural capacity for expansive 'big picture' thinking. It's especially good if you're a visual thinker or like to get 'hands on' when problem solving. (You don't need to be an artist to get a great result.)
Your 2017 plan will be more inspiring, full of richer ideas, and more aligned to what matters most to you.
At the end of the workshop you will have:
A one page A3 Castle in the Sky Visual Plan for your business that outlines your vision and headline goal for 2017, your key strategies and actions, and your foundation of strengths and past achievements
At least one action scheduled in your calendar
A greater network of other like-minded business owners and an invitation to join an accountability Facebook Group
More likelihood of looking back in a year's time on all that you have accomplished and being satisfied with your return on investment.
The Castle in the Sky Visual Plan Workshop will be held at two different times and venues.
Session 1:
Date: Friday 25 November 2016
Time: 9.20am (for a 9.30am start) until 12.30pm
Venue: One Roof, 77-79 City Road, Southbank
Plus bonus opportunity to use a free hot desk after the workshop until 6pm*
OR
Session 2:
Date: Friday 2 December 2016
Time: 9.20am (for a 9.30am start) until 12.30pm
Venue: Firestation Print Studio, 2 Willis Street, Armadale
All Materials and Morning Tea provided.
On booking, you will also receive a BONUS Reflection Worksheet download to reflect on the past year for your business and what changes you'd like to make in 2017.
Investment: 
The Early Bird Price is $95 for a single ticket (plus 30c booking fee) until Monday 14 November.
After which it's $110 for a single ticket (plus 30c booking fee).
Book with a friend to take advantage of the "You + Friend" Ticket at $170 
(plus 60c total booking fee) (which is a saving of $25 each).
or hit the button below.

Pin It