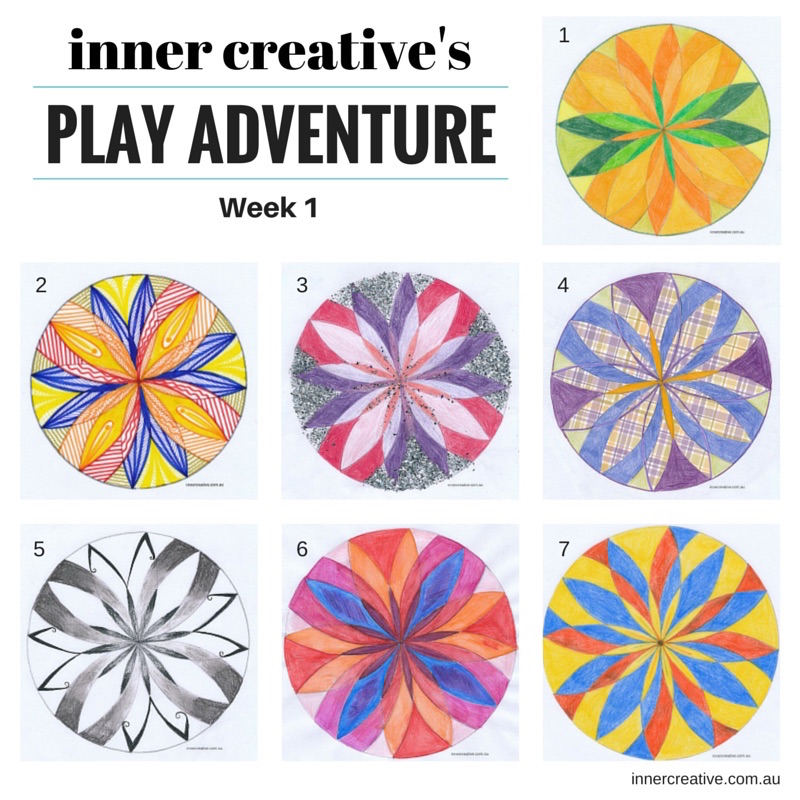 Last week I decided to embark on a Play Adventure where I would colour in my Mandala Colouring Page every day for 30 days. Well, it's been a week already! Wow! Seven days of play :-).
I've really enjoyed having this time to play. It's been nice to have some downtime where I don't have to worry about anything else and can just be free to be guided by my intuition and curiosity. I've also had the opportunity to try out some different mediums (such as my new pastel and Inktense pencils).
As expected, this commitment to creating a mandala each day has also raised some challenges. Consequently, it has also helped me identify (and reinforce) some creativity tips and what helps me be creative and find time to deliver on my commitment.
I found that I feel more creative and playful, while being more likely to succeed in delivering on my creative project, when I have:
something I enjoy doing

even when I feel like I have a bit much on my plate, knowing that this is going to be a fun activity helps me trade off other not so essential things on my to do list (like watching tv or reading through emails)
so I'm more likely to maintain my enthusiasm for the long haul and not just a few days

a specific deliverable with clear expectations

I know what I want to create and I have some set parameters about what I have to deliver (as a minimum) by the end of my efforts (e.g. to 'colour in' the same mandala colouring page). It also gives me a rough idea about how much time I need to spend each day on it as a minimum (e.g. 30 mins). I like to describe these parameters as the "container" I need to fill in.
I also have some general ground rules about how I want to tackle this project (e.g. it has to be in the the spirit of play)
a self-imposed limit also gives me a challenge to overcome through my creativity (e.g. how to 'colour in' the same mandala over and over while keeping it fun and making sure that I get different results each time)

flexibility to go with the flow

an important element in being playful
I'm more likely to enjoy the experience a bit more
it also means that I can use my creativity to break some rules (i.e. I gave myself flexibility about the tools and mediums that I could use to 'colour in' the mandala, so that I wouldn't be limited to just using coloured pencils. Also, while I have limited myself to staying within the edge of the mandala's circle, there is flexibility about staying within the lines inside the circle.)

made a commitment to myself

I decided that I would commit to this exercise and that it was important to me
I conveyed this importance to others, so I was more likely to set boundaries and clearly negotiate what I could do for others

some accountability and deadlines

I purposely made this commitment public so that I couldn't back out if things didn't turn out as planned or I changed my mind later
knowing that I have to post a completed mandala on my Inner Creative Facebook page 

by midnight every night for 30 days, as well as the sense that someone else will know if I don't deliver made me show up to colour in every day

to do something regularly, rather than once in a while – I could have committed to colouring in a mandala only once a week or say, at least 3 times a week. However, I find that I work better when I do something regularly (as long as it's realistic, kept small and not too onerous). I'm less likely to skip days or find it hard to get back on track if I've missed a day or two for whatever reason
kept it simple with easy access to all the resources and support I need to be successful

I didn't require a lot of resources to complete this exercise (e.g. as a minimum I needed a pack of coloured pencils, sharpener, eraser, copy of my Mandala Colouring Page and then the means of getting it up on my Facebook page). I didn't need to got out and spend a whole lot more money or time on new materials.
I know where I keep all of my materials and they are mostly within easy reach. I don't have to sift through a whole cupboard to find what I need.
I was also comfortable with the task and didn't necessarily have to do any extra research or learn new skills. However, as I love learning new things I let myself play with different pencil sets. In future if I did need to learn a new technique or skill, then I would just make sure that I got the right support (e.g. people, training,  knowledge, information).

 focused on the process not product

While I was colouring in my mandalas and it wasn't turning out as I liked, I reminded myself about keeping the exercise in the spirit of play. This was not about producing a masterpiece (ie. the product) but about the process of playing. It was more important to have fun and complete a mandala than strive for perfection. It's also lucky that mandalas as an art form are quite forgiving of mistakes (e.g. one just repeats the mistake so that it looks intentional). Mistakes are often seen as enhancing (rather than spoiling) the final product. I sometimes found that my mistakes actually improved the final product. So whenever I made a mistake I was gentle on myself, didn't get too hung up on it, and just kept colouring in.
There were also times when I wasn't happy with the final product (perhaps I hadn't produced the exact look that I was after). So I practiced suspending my judgement of the final product and still posted up my efforts on Facebook. And you know what? The world didn't come to an end and I didn't get any nasty hate mail :-). In fact, I was often surprised by the positive response that these 'failures' received.
So overall, it's been a positive experience. I can't wait to see what happens this week.
I hope that these learnings give you some useful creativity tips for your future creative endeavours. The most important thing is to make sure that whatever you do that it works for you. So try some of the tips out and see if they are right for you (maybe with a bit of tweaking).
Also, if you are interested in seeing how this play adventure unfolds, then you are welcome to follow along by liking my Inner Creative Facebook page. And it's not too late for you to join me by colouring in the same colouring page (get a FREE copy of the Mandala Colouring Page when you join the Inner Creative mailing list) or embarking on a play adventure of your own.
So what things help you be successful in making time and delivering your creative projects?
I'd love to know. Please share your thoughts in the comment section below.
Pin It